ABOUT EL-SHADDAI COVENANT MINISTRIES
The world is waiting to hear an authentic voice, a voice from God- not an echo of what others are doing and saying, but an authentic voice – Aiden Wilson Tozer (April 21, 1897 – May 12, 1963). He was an American Christian pastor, author, magazine editor, and spiritual mentor.
The above words from the respected servant of the Most High God, A.W.Tozer, speaks directly to the birth ad continuing sustenance of El-Shaddai Covenant Ministries.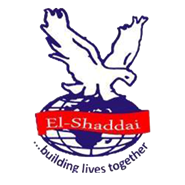 Specifically, God spoke clearly to Our Papa, Dr. James Ovbiose James, our General Overseer to start a church that will build a people of passion and integrity; that will make heaven. He responded to God like biblical Samuel and El-Shaddai Covenant Ministries was born with its first inaugural service held on the 26th of October, 1986in his sitting room in Jos, Plateau State.
The purpose of El-Shaddai Covenant Ministries is to "build lives together"according to the divine mandate given by God.
Dr. James found a perfect partner in his wife Dr.Temitayo James, a Medical Doctor, who had to leave her much loved profession to throw her full weight behind the Vision and the command of El-Shaddai Covenant Ministries. She joined forces with her husband to fulfill this God's mandate.
From his sitting room, the church moved to a primary school and later to such places like Rex Cinema, Jos;Luggard Avenue, Jos; and finally, to its present Regional Headquarters located Opposite NITEL HQs in Jos, Plateau State.
By the 1990s, El-Shaddai Covenant Ministries had become a house hold name in Plateau State in general and Jos, in particular, with several branches spread over the city of Jos and few other cities in Nigeria.
However, through the leading of God, the Headquarters, was relocated from Jos to Lagos in 2000 and as at today El-Shaddai Covenant Ministries has 22 branches, including a branch in the United Kingdom.
All these may never have come to be had a young man not heard the gospel in 1972. Though Dr. James Ovbiose James came from a humble background but his philosophy of integrity, righteousness, piety and hard work are the traits that enabled him to grow the ministry from a membership of four persons at inception to several thousands across the globe.
Dr. James Ovbiose James is a man of impeccable character, a philanthropist and an educationist. In his own words he says, "I am always willing to assist, in any way I can, children who have lost their parents to complete their education''. He is a teacher, author, entrepreneur and a builder.
Dr. James Ovbiose James specializes in building strong and viable marriages and the home and has published such books like "The Missing Rib", 4 Things Intending Couples Must Agree Upon Before Marriage", "The Way of the Rich", "The Seven Laws of Money", "Power through Meditation", "The Seed of Greatness is in You", to mention but a few.
The dynamic teaching ministry of Dr. James has not only impacted the lives of thousands across the globe but has also produced many Christian leaders who are making waves in various spheres of Christendom.
Presently, he anchors a weekly Facebook Live outreach, especially in a Facebook Closed Group – 360 Marriage Academy (www.360marriageacademy.com).
He has also featured as a Minister on Radio and Television, reaching people on such stations as Believe TV (MyTV); Kingdom Africa (DSTV); ACBN (MyTV) and Bond FM.
Dr. James, a Quantity Surveyor by training, is married to and competently assisted by Dr. Temitayo James, a Medical Doctor by profession. She is the promoter/initiator of Jim Paul Generation Next Initiative, an NGO focusing on services targeted at the health and educational development of Orphans and Vulnerable Children (OVCs) in Africa.
'Mama', as fondly called by people, Dr.Temitayo James is a powerful Minister of God, a humanitarian, seasoned motivational speaker and the Vice President of El-Shaddai Covenant Ministries.