EL SHADDAI – WHAT IT MEANS (Gen.17:1)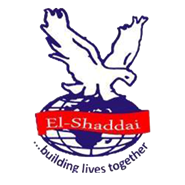 El-Shaddai is one of God's Covenant names meaning: El (God) and Shaddai (strength, strong One). It also means the All-sufficient One; the strong breasted One. This means our nourishment comes from the All-sufficient One.
This shows that the ministry is founded on a COVENANT with God – An agreement ratified by the strongest of all bonds, the blood of Jesus.
Our commissioning Scriptures are: Jer.1:9-10;and Luke 1:74-75
The purpose of El-Shaddai Covenant Ministries is to build lives.
El Shaddai Covenant church situated at 7,Social club Road, New Oko-Oba, Abule-Egba, Lagos, is the Head Quarters of El-Shaddai Covenant Ministries.
OUR TRAININGS
To become a bona-fide member of our church, you will be required to go through our various training classes which include:
Membership
Discipleship
Ministry
Missions
These training are done once a quarter on designated Saturdays and they run concurrently.
OUR STRUCTURE
The people are the MINISTERS
The pastors are the ADMINISTERS