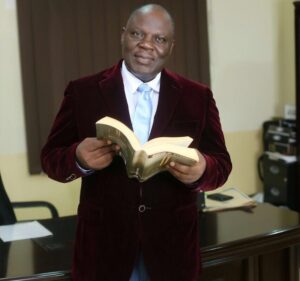 Dr. James Ovbioise James was born on the 2nd of February, 1952. He is the Founder and President of El-Shaddai Covenant Ministries, a Christian Religious Organization established in 1986 but has since grown into a church with global outreach.
A graduate of Quantity Surveying from the Ahmadu Bello University, Zaria from where he also bagged a Master's degree in Building/Construction Management, Dr. James, after a stint as a lecturer in the same university, ventured into private practice and established Q-com and Associates, a Quantity Surveying & Estate Management Consultancy company.
After a successful but brief private practice, Dr. James O. James was to answer the ministerial call and started El-Shaddai Covenant Church from his sitting room on October 26, 1986 with only a handful of people. Today, the ministry has over 25 branches and has reached thousands of people with the gospel of Christ and raised many successful Pastors who themselves are making waves in Christendom.
Dr. James' main passion is for marriage and the home. His in-depth and expository teaching on marriages make his meetings and crusades crowd pullers. He is also a teacher of the gospel of prosperity through righteousness.
Dr. James preaches the gospel of Christ accompanied with the attendant benevolence that makes Christianity unique. He lives an exemplary lifestyle of humility, benevolence and charity. He is a defender of the downtrodden, and has a ministry to widows and the less privileged. He has granted several scholarships to indigent students and is the promoter of Jim Paul Foundation – an NGO that renders free medical treatment to children, especially Orphans and Vulnerable children.
An avid reader and prolific writer combined, Dr. James has published many books amongst which are "4 Things Intending Couples Must Agree On Before Marriage", "7 Laws of Money", "The Way of The Rich", "The Missing Rib", and "The Seed of Greatness is in You", just to mention a few.
His hobbies include: Reading, Travelling and Sports. He has been married for over 30 years to Dr. Temitayo James, a medical doctor by training and they are blessed with 3 Children; 2 Girls and 1 Boy as well as a grandson.